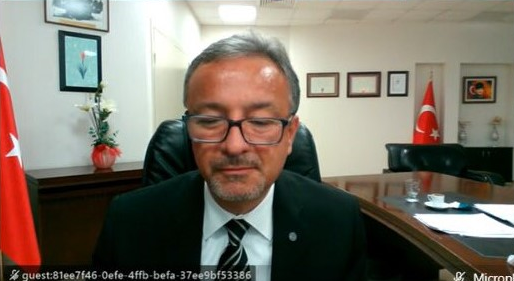 "Safe and Healthy Life Symposium" from Ege University
Prof. Dr. Gürgün, "All addictions need to be combated altogether"
Bora Tekin- Eslem Türkoğlu- Simge Arıcı
"Safe and Healthy Life Symposium" was held by Ege University (EU) Institute of Substance Abuse, Toxicology and Pharmaceutical Sciences (BATI) within the scope of Green Crescent Week Activities. EÜ Vice Rector Prof. Dr. Cemil Gürgün, EU WEST Director Prof. Dr. Serap Annette Akgür, Deputy Director Assoc. Dr. Görkem Yararbaş, academicians who are experts in their fields and members of the Young Green Crescent Community attended.
Speaking at the opening of the symposium, EU Vice Rector Prof. Dr. Cemil Gürgün said, "Being healthy is not only a necessity and a right for the individual, but also a basis for quality of life, socioeconomic and personal development. At the beginning of the 21st century, the first five diseases that constitute the burden of disease in the world were defined. These are cardiovascular diseases, cancers, mental illnesses, chronic airway diseases and diabetes, which is increasing with obesity. In the formation of these diseases that threaten public health, it is caused by behavioral risk factors as well as socioeconomic status, education, lifestyle, inequalities in access to health services; There are also important contributions of factors such as unhealthy diet, sedentary life, tobacco, alcohol, substance use, stress, insomnia, unsafe life, and poor hygiene.
"Addiction is a big threat to society"
Emphasizing the rapid increase in tobacco, alcohol and drug use rates in Turkey and in the world, Prof. Dr. Gürgün said, "As a result of the rapid developments in technology and the unconscious use of technology, the concept of technology addiction has entered our whole lives. Addiction, which is a program that seriously affects individuals physically, mentally, spiritually and socially, also poses a great threat to society. More efforts will be required in the coming years in the fight against addictions. As a result of the increase in communication with technological developments, access to drugs, alcohol and tobacco has become easier. For a strong Turkey now and in the future, there is a need for physically and mentally healthy generations, not dependents. For this, it is necessary to fight all addictions without discrimination. I congratulate everyone who contributed to this beautiful symposium where healthy life and addiction issues will be discussed.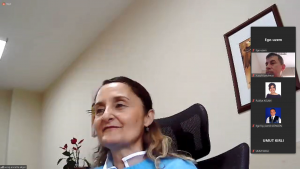 "Addiction should also be addressed in terms of community safety"
In the symposium, EÜ BATI Director Prof. Dr. Serap Annette Akgür, "Especially in the issue of substance addiction, the money obtained from the distribution and marketing of these substances is related to illegal organizations and financing terrorism is an issue that should be emphasized. In this context, it reveals that while struggling with addiction, it should not be seen only as a public health problem, but should also be addressed in terms of public safety. I would like to emphasize that, unlike other approaches, substance use and addiction should be addressed not only as a public health problem, but also in terms of community security, due to the fact that the incident is related to illegal organizations and terrorism, and the psychosocial interaction of the user."
EU BATI Deputy Director Assoc. Dr. Görkem Yararbaş emphasized that tobacco addiction is the most common type of addiction in his presentation on "Tobacco-Free Life". Assoc. Dr. Yararbaş said, "As of this morning, 1.3 billion people around the world have lighted cigarettes. In terms of addiction, tobacco is also a risk factor for the formation of other addictions. Therefore, the probability of a brain addicted to tobacco being addicted to a different substance or behavior increases biologically. It also causes many diseases in the body," he said.
"We are one of the rare countries that provides free support for smoking cessation"
Stating that the smoking onset age is under 18, Assoc. Dr. Yararbaş said, "Unfortunately, the probability of young people who have a connection with tobacco to reach different addictive substances increases with social interaction. It should be said that the population under the age of 18 and the female population are at very high risk in Turkey. These will form the adult smokers of the future. As the Institute, we started a Telemedicine service. In this two-year period, we have seen that successful remote smoking cessation support is possible. There are ALO 171 smoking cessation lines in our country. Those who want to quit can use this method. "Our country is one of the rare countries that provides free support for quitting smoking," he said.
In the continuation of the symposium, Lecturer. See. İnci Derya Yücel "Psychological Factors in Tobacco Use", Dr. Faculty Member Umut Kırlı, "Substance Addiction", Assoc. Dr. Yusuf Kurtulmuş "The Effects of Alcohol on Our Body: A View on Methyl Alcohol", Lect. See. Yeşim Karabulut "Current Approaches in the Detection of Substance Use", Res. See. Dr. Rukiye Aslan "The Role of Academy in Combating Addiction", Res. See. Dr. While Demet Havaçeliği Atlam made a presentation on "University Life and Being Safe", the Young Green Crescent Representative made a presentation on "Addiction from the Eyes of Youth".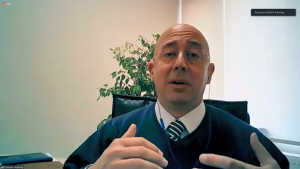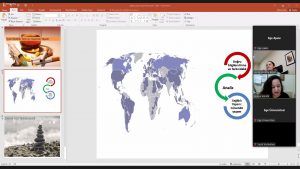 Ege Press 08.03.2022 Bora Tekin- Eslem Türkoğlu- Simge Arıcı